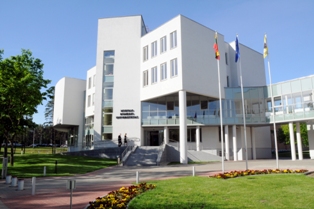 Mykolas Romeris University is a modern, dynamic university and the second largest research university in Lithuania. The university is committed to delivering high quality education, to amassing and nourishing intellectual potential, and to preparing leaders capable of creating and implementing innovations, which influence the overall progress of society.
More than 21 thousand students study at Mykolas Romeris University in the fields of Economics, Information Technology Science, Law, Public Management and Administration, Management and Business Administration, Political Science,  Psychology, Sociology and Social Work.
Mykolas Romeris University has successfully integrated into the European and global higher education environments by following the latest trends in higher education. Also it is globalizing its activities, developing distance learning and life-long learning studies, and implementing a liberal education system. Studies and research are carried out according to the major principles of the Bologna process.
The University fosters autonomy. This allows independent tailoring of studies, research and improvement or change of professional qualification in response to the development of the needs of European higher education and the labour market.
Mykolas Romeris University is a full and active member of major international organizations: IAU, EUA, EAIE, AUF, OECD IMHE programme, etc. It cooperates with over 200 international institutions including universities, public and management institutions.
In 2005-2006, Mykolas Romeris University took part in the EUA (European University Association) Institutional evaluation programme and was very positively evaluated by general institutional quality review.
Mykolas Romeris University, as a scientific research university, engages in fundamental and applied research. The University takes part in national, regional and international research programmes and projects. It practically applies research results and widely disseminates them to the public.
Several Mykolas Romeris University's researchers receive National Scientific Awards for their significant scientific research and top-level scholarships annually to carry our their work.
The following research areas have been identified: Strengthening Lithuanian Economic Competitiveness, Entrepreneurship and Social Cohesion; Development of Human Resources: Challenges for Social Policy; Effective Public Administration; Rule of Law and Social Cohesion in the 21st Century; Multi-level State Governance.
Researchers' teams take part in national and international research programmes, including the EU's Framework Programmes for Research and Technological Development (FP6 and FP7). Mykolas Romeris University has a wide network of contacts and ties worldwide. Researchers take part in numerous scientific research and educational networks, including European Doctoral Programmes Association in Management and Business Administration (EDAMBA), the European Union Expert Group on Gender, Social Inclusion and Employment, Connex Doctoral Network, New-Neighbourhood Doctoral Network, Nordic-Baltic Doctoral and Young Researchers' Network, and the European Network of Masters in Children's Rights.
According to its mission, the University seeks to be an active player of the society. As a member of the Knowledge Society Forum, Mykolas Romeris University fosters discussions with the public, organizes seminars and conferences, provides with the possibilities of life-long learning. A variety of study forms is offered, for instance, competence improvement, special training, distance learning courses and programmes.
Philosophy of cross-border interaction is at the heart of study, research and management processes at Mykolas Romeris University. It emphasizes student and teaching staff exchange as one of the key factors for internationalization of studies. The University participates in various networks and European, national and international programmes, including Erasmus, Grundtvig, Asia-Link, Framework 7. It also participates in other projects involving joint collaboration for curriculum development, academic exchange, and research.
Several joint degree programmes are carried out at the University in cooperation with European partners. The University offers study programmes in English for degree seeking students and courses for free movers and exchange students in English, German and French. Academic staff and the administration put much effort into making their studies and stay in Lithuania most enriching and enjoyable.
Location of  Mykolas Romeris University (Ateities g. 20, Vilnius) on a map.