VILNIUS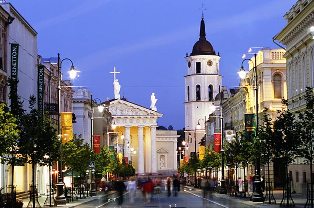 Vilnius is the capital of Lithuania, European Capital of Culture 2009, the largest and one of the most beautiful cities in the country. It is situated 300 km to the East of the Baltic seashore at the confluence of two rivers surrounded by beautiful hills.
The population of Vilnius is 554,400.  Vilnius is home to people of different ethnic backgrounds out of which Lithuanians represent 57.8%, Poles – 18.7%, Russians – 14%, Belarusians – 4%, Jews – 0.5%, and the remaining 5% represent other ethnic backgrounds.
The old town of Vilnius combines a wide variety of all European architectural styles, which makes the town extremely attractive and cozy. In1994, for its unique old town Vilnius was included into the UNESCO list of world cultural heritage.
For more information, please visit the website of Vilnius Tourist Information Centre.
MAPS OF VILNIUS
Please find several maps of Vilnius on-line:
Location of conference hotels and Mykolas Romeris University (Ateities g. 20, Vilnius) on a map.
LITHUANIA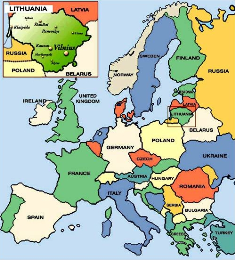 Area: 65,300 sq. km or 25,174 sq. miles.
Borders with: Latvia, Belarus, Poland, Russia (Kaliningrad region); 99 km or 61.5 miles of coastline.
Population: 3,341,700.
Ethnic groups: Lithuanians 81,6%, Russians 8,2%, Poles 6,9%, Belarusians 1,5%, Ukrainians 1,0%, Jews 0,1%, Tatars 0,1%.
State language: Lithuanian.
Currency: Lithuanian Litas (Lt, LTL). 1 Euro = 3.4528 Litas.
Time: GTM +2 hours.
Electricity: 220 V, 50 Hz. European-style 2-pin plugs.
Major religion: Roman Catholics.
Please find more information about Lithuania from the  official gateway to Lithuania.